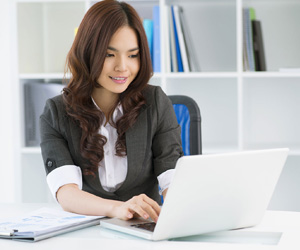 Synergy Profit Solutions offers complete accounting and bookkeeping services along with financial reporting to small and medium-sized businesses in Markham, Richmond Hill, Pickering, Ajax, Whitby and other Greater Toronto Area. We can help your business in a number of ways. We will only provide the business services that you request, whether it's full service bookkeeping, payroll management, financial reporting or just filling in for your current staff. We promise to provide your company with reliable and professional accounting and bookkeeping services. And, of course, all financial information is handled confidentially.
Below are our core accounting and bookkeeping services, but we can effectively handle any specific need you may have. Contact us now for a FREE consultation.
Accounting Applications
Monthly oversight of your company entries
Customized applications for special projects
Monthly Financial Reporting
Profit & Loss Statements
Balance Sheets
Accounts Payable & Accounts Receivable
Computerized posting of entries to track your bills and invoices
Reports detailing or summarizing your bills and invoices
One to two times monthly review with owner or manager
Check Writing & Deposits
Computerized checks available with voucher history
Computerized slips available with payment history
Bank reconciliation
Accurate balancing of your accounts
Bank statement reconciliation reports
Outstanding checks & deposits reports
Payroll Management
Computerized payroll processing
Compute tax deposits
Print paychecks
Prepare payroll taxes & required forms
Maintain employee records, including enrollment forms
Accounting and Bookkeeping Services – Affordable than In-House Team
We offer an affordable and reliable way for your business to get up-to-date with your financial needs. Our Canadian based Chartered Professional Accountants and Certified General Accountants are able to work with your company in order to develop a firm understanding of your financial structure, and assist you in making informed business decisions.
Our accounting and bookkeeping services are tailored for your business, and can include work related to tax returns, financial statements, tax planning, and much more. Our team consists of experienced and qualified accountants who are able to provide your business with a custom accounting solution.
Key Benefits of Accounting and Bookkeeping Outsourcing
The most common reasons management chooses to outsource accounting and bookkeeping services are to reduce operating costs, improve company focus, improve quality, reduce office space requirements, free up capital, and increase capabilities not otherwise available and to reduce cycle time.
By outsourcing your accounting and bookkeeping your company could:
Focus on core business. Off-load non-core functions.
Get skilled staff at affordable fees. Cost savings of over 50%!
Get access to world-class technology at lower rates.
Grow your business. Beat Competition.
Increase customer satisfaction.Improve speed and service.
Not only do we offer the technological edge, flexibility, time-to-market and a competitive advantage, we also offer infrastructure as per international standards. We can help you save the wages, payroll taxes, fringe benefits, worker's compensation insurance, employee recruiting, training and management, accounting software, office space and other costs associated with an in-house employee. Your costs could be reduced by more than 50%!