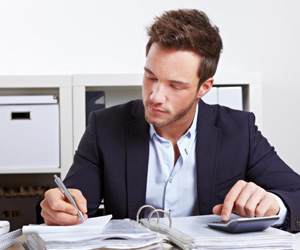 Helping with Your Corporate Tax and other Business Taxes Obligations
The corporate tax and other business taxes are ones of our areas of expertise as an accountant lies within. We would be most pleased to get your taxes in order as the first priority, and then extend our services into the tax planning that could give you a better opportunity to enjoy your money rather than have to dole it out to the CRA.
Small Business Tax Hurdles Solved
Owning and operating a small business today is one that comes with a tremendous amount of responsibility. It is all one can do to keep on top of the daily business operations and focus on the constant demand to generate new business. Handling the tax responsibilities that come with small business often becomes neglected.
As a result business owners soon find themselves running into tax difficulties perhaps by not filing the proprietorship or corporate tax returns properly or even falling behind in filing. When it comes to business and tax it's a double edged sword.
Careful Tax Planning for Savvy Businessman
The savvy business owner has to be on top of his accounting records. Then he must be able to rely on professionals within the financial industry that can complete his tax matters so his corporation or sole business can take advantage of the substantial tax breaks that are available.
It is important to remember that the Canada tax laws as well as the provincial tax laws for Ontario are constantly changing. You need an accountant that is dedicated to remaining alert to these changes, so he can advise you as to what is the best course of direction for your business.
Mandatory EFILE for T1 and T2 for Tax Preparers
Starting in 2013, tax preparers who file more than 10 returns will be required to file them electronically. Mandatory electronic filing applies to the filing of both T1 General income tax and benefit returns and T2 corporation income tax returns for the 2012 and later tax years.
The penalty for no EFILE is $25 for each T1 General Return and $100 for T2 Corporation returns that are paper filed.
For those not comfortable with online filing there is no need to be concerned. EFILE is part of our services offered to you. With years of electronic filing and experience, we have the expertise to take care of this matter for you. There are a few exceptions where an individual is not eligible for EFILE and in this case, we will follow standard filing processes.